Recently, Phil Rivers Technology (Beijing) Ltd. announced that Dr. Jianfei Yang has officially joined Phil Rivers Technology as Chief Scientific Officer (CSO). In view of the unique insights generated by Phil Rivers Technology's computational medicine platform, Dr. Jianfei Yang will be responsible for the R&D work of the drug pipeline and further promote the global cooperation of the company's drug-related IPs.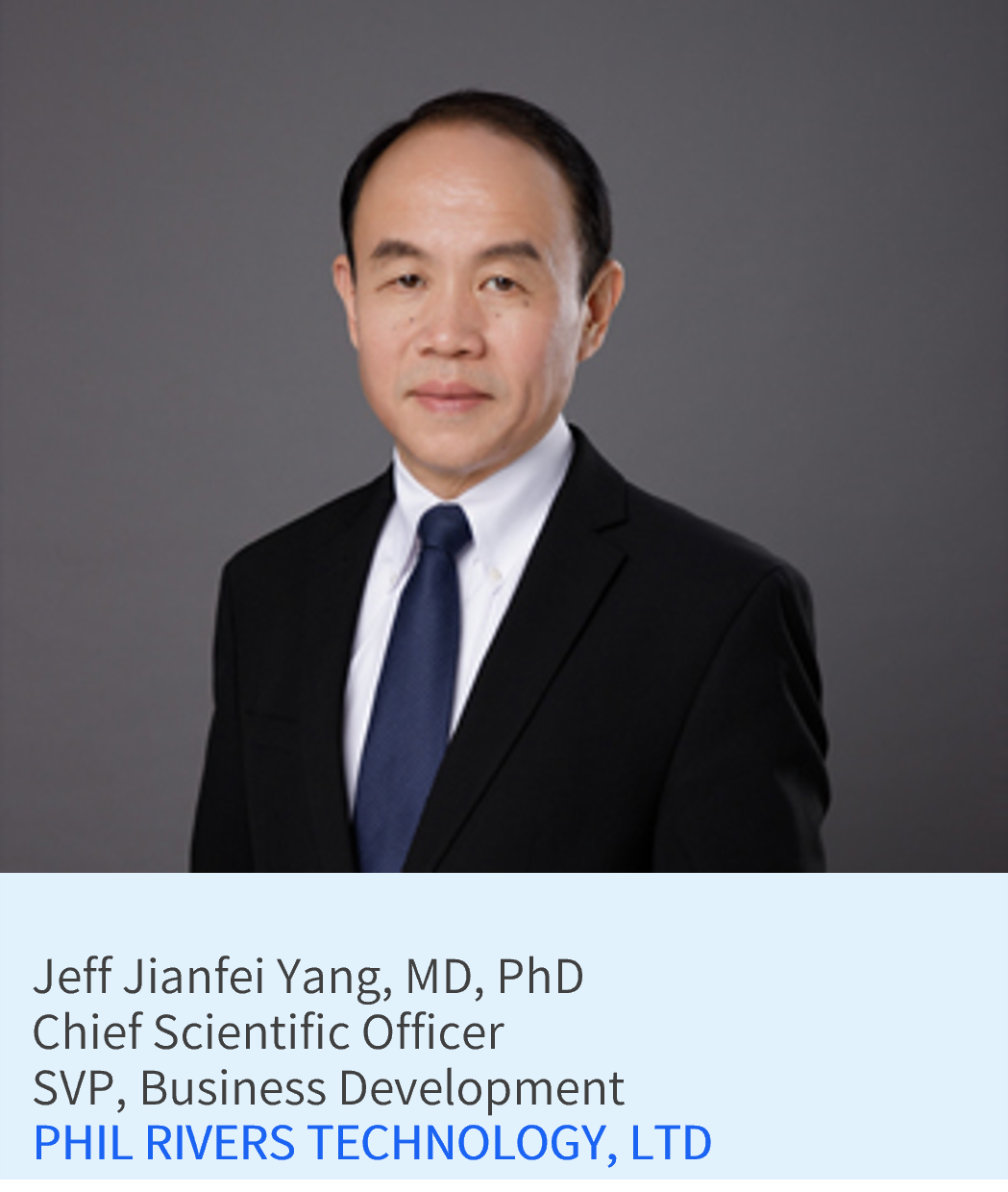 Dr. Jianfei Yang is a globally renowned scientist in the field of immunology with 30-plus years of experience, and 20 years of experience in drug discovery for tumors and immune inflammation. He obtained his Ph.D. in Pathology/Immunology from Niigata University in Japan and did postdoctoral research at Washington University/HHMI under the guidance of Ken Murphy, an academician of the American Academy of Sciences. Dr. Yang has served as a principal scientist or New Drug R&D leader at international pharmaceutical companies such as BI and GSK, setting up and leading Immuno-Oncology or Bio-pharmaceutical teams at two domestic Biotech companies. He has extensive successful experiences in disease research, target discovery & validation, drug discovery, translational medicine & IND filing, etc. He has keen insight into project evaluation, international vision on project initiation, pipeline strategy layout and external cooperation projects assessment, etc. He discovered and validated dozens of targets while leading more than 20 novel drug development pipelines; he was the discoverer of J10/J11 (BTLA) and J12 (IL-31). In addition to that, he also conducted major relevant works on Th17 during his tenure with BI or GSK, attaining an international leadership position. He published more than 30 scientific papers on Immunology, Cancer Biology, and Pharmacology in journals such as Science、Nature Immunology, Immunity, and JI among others.
Dr. Jianfei Yang , Chief Scientific Officer of Phil Rivers Technology, made his debut at the East-West Biopharma Summit during the J.P. Morgan Healthcare Conference on January 8th 2023 local time in the United States. He introduced Phil Rivers Technology's artificial intelligence algorithm dedicated to cracking down disease mechanisms and its research strategies for drug development, companion diagnostics, virtual clinical trials, and drug repurposing. Dr Yang publicly unveiled for the first time Phil Rivers Technology's pancreatic cancer FIC pipeline development strategy. Under computational medicine navigation, Phil Rivers Technology's pancreatic cancer pipeline not only provides high-value pancreatic cancer drugs but also provides a clear companion diagnostic program to accurately stratify patients and optimize dosing windows, which can greatly improve clinical patient response rates and prolong survival times. According to research firm Research And Markets, the global revenue of CDK4/6 inhibitors is expected to reach $42.5 billion by 2030. Phil Rivers Technology has expanded this heavy-duty drug's application to more than 100 tumor subtypes, further enhancing its commercial value and benefiting a larger number of patients.
Dr. Gang Niu, co-founder and co-CEO of Phil Rivers Technology, expressed his honor at the addition of Dr. Jianfei Yang to their team for drug R&D based on artificial intelligence as well as leading the drug pipeline development: "We are thrilled to have him join us in creating an AI + disease driven new drug R&D platform with comprehensive capabilities. His expertise in tumor immunology direction, along with his innovative mindset towards embracing new ideas and technologies, will surely help create a brand new paradigm for drug R&D that enables two-way empowerment between artificial intelligence and biomedicine, thereby accelerating the release of productivity for delivering high-value drugs IP from Phil Rivers Technology."
Dr. Jianfei Yang expressed his enthusiasm for joining forces with Phil Rivers Technology to create a new paradigm of drug development: "The computational medicine platform pioneered and developed by Phil Rivers Technology has greatly deepened our understanding of diseases, allowing us to identify the right targets and develop effective treatment strategies for specific populations. The insights provided by AI models, as well as the experimental data results on the pancreatic cancer pipeline, have been very encouraging and have verified our R&D decisions. Going forward, we will use this new paradigm to promote innovation pipelines more confidently and powerfully. I am confident that Phil Rivers Technology's platform is capable of industrializing systematic output of novel targets and mechanisms; together, we can develop drugs with high clinical value for more tumor diseases and immune system diseases."
PHIL RIVERS TECHNOLOGY
Phil Rivers Technology (Beijing) Ltd. is a platform company , which empowers pharmaceutical innovation with artificial intelligence technology. We focus on "AI + disease" driven drug development, and our core technology is digital twinning technology of life functions to build a computational medical platform. Our mission is to construct a "digital experimental field for drugs", discover new targets, develop drugs, simulate clinical trials as well as expand new indications for drugs to bring about a new paradigm for pharmaceutical research and development. We have many valuable IPs such as newly discovered targets, indications, and drug companion diagnostics.